Chapter 30
: A
veiled women
with long pink hair is departing, while saying, "Thank you.. It was fun talking to you".
Lark
then wakes up wondering if what he has just seen was a dream and thinking that it feels like déjà vu. He is, then, greeted by
Angela
and
Yamurnia
. Angela kicks Lark out of the bed and the boy, while comlaining for the treatment he gets, tries to get his thoughts together. Angela points to the fact that Lark feels no pain at all, because she has healed him and announces that she is the new school nurse.
In the middle of Angela and Lark's discussion,
Sia
and
Seere
come to visit Lark, believing he was injured because he fell from the stairs. They sit to the infirmary to discuss with Lark and Angela, and Seere tells Lark that she envies him him for being a member of such a close family.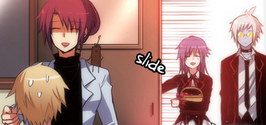 Lark immediately stands up yelling that Angela, in reality, is a really malicious woman. As soon as Angela says, in the most natural way, that she will kill him if he continues saying such stuff, Lark decides to change the subject and asks about the declaration ceremony of the
student council
. Immediately the atmosphere in the room changes. Seere tells Lark that the ceremony was a complete disaster.
The story now flashbacks to the declaration ceremony.
Setz
finishes his speach as the vice president, and, then encourages
Carne
with a smile to go to the stage. Happy to see Setz actually smiling, Carne goes to the stage, believing she will succeed. She gives her speech and, afterwards, shows her
'fire
'
ability
to the people gathered at the Assembly Hall. In the audience, the
pink-haired man
underlines that the girl's ability is definitely a powerful one, while
Navarus
is smiling and thinking that Carne will become a strong president.