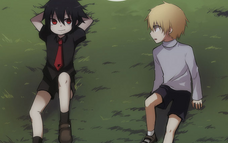 Chapter 2: Lark tells Setz that he is being bullied because of his red eyes. Setz then says Lark isn't a monster and shows that he has red eyes too. After this, Setz starts visiting Lark every night. Lark is happier than he has ever been before, now that he got to know how having a friend is like. The fact that Lark spends so much time somewhere outside for so many hours, raises suspicions to Lark's adoptive family. One night, after having farewelled Setz, Lark, is doing the laundry. While doing so, he overhears his adoptive parents discussing that he is constantly running off somewhere recently and wondering whether they should send him back to the orphanage, since they've taken care of him for a few years already. Lark drops the cloth he is carrying and is left speechless. He starts wondering what an orphanage is and where it is. He immediately decides that he doesn't want to go somewhere else, because he has made a friend at this place.
The next day, Setz is on his way to visit Lark on more time. He meets a woman with a white nurse's coat, 
Angela
, who asks him whether he is going
there
 again. Setz tells her about how "cool" the outside world is and how fun it is playing with the new friend he has made there. While he is talking, he gets a pitiful stroke on his head from her, who smiles widely and tells him to go have fun this day too. Setz is taken aback at first,  but he then smiles and agrees. After Setz has left, Angela watches him silently for a while, then sighs and calls Setz a poor kid.
Setz goes, once again, to the
human world
, only to find a depressed Lark, crying, at their usual meeting place. Scared, Setz grabs Lark from the shoulders and starts shaking him, while yelling at him to stop crying and tell him what's going on. Lark tells him that he won't be able to see him anymore, because he's going to the orphanage and he cries that he doesn't want to go there. As soon as Setz hears that, he thinks that the whole situation is like a deja-vu. The chapter ends with Setz asking Lark if he would want to go with him.