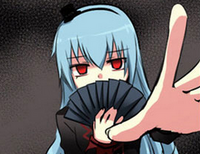 As
Lark
and
Seere
are walking in the school courtyard, two female students greet Seere, and start accusing her of being late. The girls then start chatting together in their own little world. After Seere suddenly notices that she has been ignoring Lark, she introduces him to her sister,
Seeren Klein
and her friend,
Ersha Sermenys
. While Lark is trying to introduce himself, Seeren starts yelling at Seere for being friendly to strangers. Ersha tells Lark in a threatening way to stay away from Seere, and then gives him a card which she thinks fits him. When Lark looks at the card, he sees a clown with the words "The Fool" at the bottom. Seere quickly apologizes to Lark, and the three girls leave. After being left alone, Lark throws away the clown card and heads towards his dorm.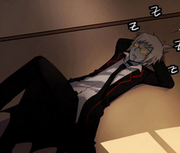 Lark opens the door to his dorm room, only to find just an empty room with
Sia Kul
sleeping on its floor. After being mistreated by girls, being given an empty room, and being roommated with a scary
zombie
, Lark becomes pessimistic about the future of his school life. All of his misfortunes convince him to immediately get
Angela
's experiment ingredients from
Navarus
, so he can leave
Arzew
as soon as possible. He turns the other way to head to the director's office, but silently as he is awake he might wake up Sia.